School Awards & Achievements
The Awards and Recognition make people feel that their work is valued. It shows approval and gratitude for each person's good work, and it makes people aware that good work will be rewarded. It shows that you're aware of outstanding accomplishments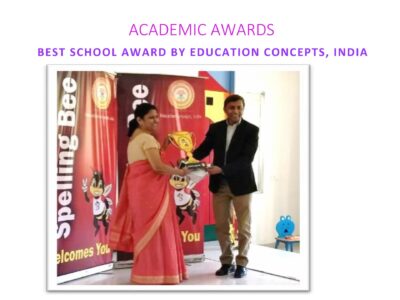 Best School Award by Education Concepts
Darshan Academy, Pune was awarded with The Best School Award by Education Concepts , India for outstanding performance of students in Academics 
Golden School Award at National Level
Darshan Academy, Pune was awarded with Golden School Award at National Level by Indian Talent for two consecutive years for commendable performance of students in Academics. 
Best Principal Award
Darshan Academy, Pune was awarded with The Best Principal Award by Indian Talent at State Level for outstanding performance of school in Academics.
Times NIE Awards:
Darshan Academy, Pune feels proud to announce  Student of the Year Award 2020-21  and also the scholarships awarded to the top 5 rankers of our school, by Times NIE.  

The Times NIE  Student  of  the  Year Award is founded to recognize academic excellence in the classroom. The purpose is to reward students for their hard work and dedication leading to an outstanding overall performance as well as in academics within the school.

Rank 1 – Sanika Hadavale 

Rank 2 – Aayushi Wasnik 

Rank 3 – Deval Bijagare 

Rank 4 – Sharvari Sonwalkar 

Rank 5 – Maitrik Kesarkar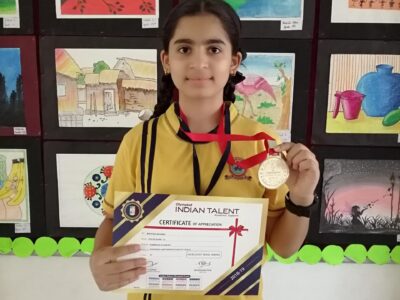 Bhavika Shandil
Bhavika Shandil Grade X, of Darshan Academy, secured the Excellence Award in Indian Talent Exam. She bagged the 12th rank on State Level.
WORLD RECORD WINNERS
H.H. Sant Rajinder Singh Ji Maharaj visited Darshan Academy in October 2017. He gave away awards for students who had set Guinness book of world record in skating, Karate and for other various sports events
Yadhu Prasad – Archery Competition Winner
Yadhu Prasad got first Prize at District & State Level in Archery Competition organized by CBSE & obtained 6th Position at National Level in Punjab. 

Yatharth Jajodia stood First in Skating Competition organized by Skating Federation of India
At State Level & represented Maharashtra at National Level in Karnataka